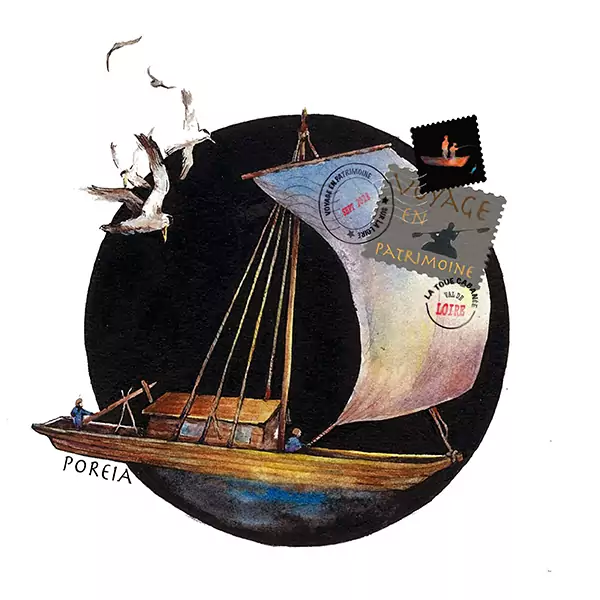 Human activity, build with the river flow, can be testimonied by the various ships flowing it. Understanding La Loire as a commercial route gives the possibility to go back in time and explore a rich and complexe story. The Loire mariners, have passed on a cultural  and artistic heritage, often witnesses of forgotten ways of life. Their story, symbolics and manufacturing technics have all stimulated our curiosity, in order to share know-hows, liking and life of the ones living along La Loire.
Our Partners
« Loire et Marine » organisation : the organisation volunteers have taken us on La Montjeannaise. La Montjeannaise is a copy of a traditionnal Loire barge called gabare.
Dampierre-sur-Loire, the trogloditic city : Madam Mayor of Dampierre-Sur-Loire has shown us around the old trogloditic protected village.
The Loire museum of Cosne-Cours-sur-Loire : the museum team has selected a masterpiece whose manufacturing technics and iconography are linked with the river and local country.
The mysterious freestone quaries : the ancient freestone quaries hide stories of workers and visitors over several centuries, through graffitos and drawings. We have discovered one of those hidden places with Nicolas Viault, who has referenced and documented them for years.
The river house of Loire du Cher of Belleville sur Loire : the lady in charge of the house has guided us to pass from La Loire to its side channel thanks to the Mantelot sluice. Ancient passage used before the channel-bridge, this sluice has witnessed the passage of thousends of mariners, accomplishing complexe and dangerous crossing operations.